Benoa, Bali, Indonesia
Benoa's recently built seafood restauraunts along the coast allow visitors to pick their fish out of the tank and watch it be cooked, ensuring that they receive the freshest food around. Benoa is a popular spot for windsurfing. Small boats for sailing are also available for rent, allowing travelers to sail at their leisure around the picturesque port. As the sun sets, the beach is enveloped in a cozy feeling which lasts throughout the calm, peaceful nighttime.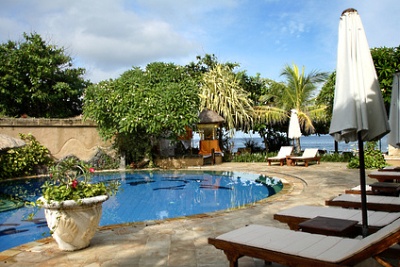 Language: Balinese, Indonesian
Currency: Indonesian Rupiah (IDR)
Driving Directions and Parking Information
Port of Benoa
Jalan Dermaga II, Pedungan, Kuta Selatan, Kota Denpasar
Bali, Indonesia
The Port of Benoa is located approximately 20 minutes from the Ngurah Rai International Airport.
From the airport, get onto Jl. Akses Bandara Ngurah Rai, then continue onto Jl. Airport Ngurah Rai for 2km. Turn slightly right at Jl. By Pass Ngurah Rai, then turn left onto Bali Mandara/Jl. Nusa Dua - Bandara Ngurah Rai - Benoa Toll Road. Drive 1km, then take the exit onto Jl. Nusa Dua - Bandara Ngurah Rai - Benoa Toll Road/Mandara Toll Road. After 2km, use the right lane to take exit towards Jl. Pelabuhan. Turn right onto Jl. Pelabuhan, then left onto Jl. Dermaga II to reach the Port of Benoa, on the right.
Benoa, Bali, Indonesia Weather
Jan
Feb
Mar
Apr
May
Jun
Jul
Aug
Sep
Oct
Nov
Dec
High
86
86
87
87
86
85
85
83
83
86
87
86
Low
78
78
78
78
78
77
76
76
76
77
78
78
Average
83
83
83
83
82
81
80
80
81
82
83
83
Jan
Feb
Mar
Apr
May
Jun
Jul
Aug
Sep
Oct
Nov
Dec
High
30
30
31
31
30
29
29
28
28
30
31
30
Low
26
26
26
26
26
25
24
24
24
25
26
26
Average
28
28
28
28
28
27
27
27
27
28
28
28
Jan
Feb
Mar
Apr
May
Jun
Jul
Aug
Sep
Oct
Nov
Dec
Inches
14
11
8
4
3
3
2
1
2
4
6
12
Centimeters
36
28
20
10
8
8
5
3
5
10
15
30