Manaus, Brazil
Manaus is the capital of Amazonas State in Brazil and is the chief port for the region's river system. It's close proximity to the Amazon Rainforest allows ample access to boat and land trips into the jungle. Popular sites include the Teatro Amazonas opera house, Ponta Negra Beach, the CIGS Zoo, and the Mercado Adolpho Lisboa marketplace. Most Amazon River cruises begin or end in Manaus.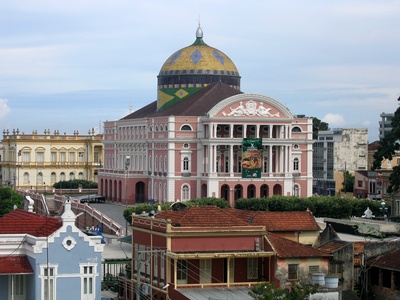 Language: Portuguese
Currency: Brazilian Real (BRL), US dollar (US$)
Driving Directions and Parking Information
Port of Manaus
R. Taqueirinha, 25 - Centro
Manaus - AM, 69005-420, Brazil
The Port of Manaus is located approximately a half hour from Eduardo Gomes International Airport.
From the airport, turn right onto Av. Santos Dumont and drive for 2.5km. Turn slightly right onto BR-174, and continue straight to stay on BR-174 for 6km. Turn right onto Av. Leonardo Malcher, then turn left onto Rua Luiz Atony. Turn right onto R. Gov. Vitorio, then turn right onto R. Visc. de Maua. Finally, turn left onto R. Taqueirinha and your destination will be on the left.
Manaus, Brazil Weather
Jan
Feb
Mar
Apr
May
Jun
Jul
Aug
Sep
Oct
Nov
Dec
High
86
86
86
86
86
87
87
89
90
90
89
87
Low
74
74
74
75
75
75
74
75
75
76
76
75
Jan
Feb
Mar
Apr
May
Jun
Jul
Aug
Sep
Oct
Nov
Dec
High
30
30
30
30
30
31
31
32
32
32
32
31
Low
23
23
23
24
24
24
23
24
24
24
24
24
Jan
Feb
Mar
Apr
May
Jun
Jul
Aug
Sep
Oct
Nov
Dec
Days
20
20
20
19
16
10
10
6
8
9
11
18
Jan
Feb
Mar
Apr
May
Jun
Jul
Aug
Sep
Oct
Nov
Dec
Percent
94
94
94
95
95
93
92
91
91
91
91
93